Introduction to the Immigration Framework
The territory of Grenada consists of three islands: Grenada, Carriacou and Petite Martinique. Grenada was granted independence from Britain in 1974 and is part of the Commonwealth of Nations. Grenada is an English- speaking country situated in the southernmost part of the Caribbean region between the Caribbean Sea and the Atlantic Ocean in a tropical climate with an average temperature of 30 degrees Celsius. Grenada is 133 square miles in area and has a population of approximately 110,000.
International and regional migration to Grenada has always been the foundation of the nation's populace, either through work permits, residency, parental citizenship or foreign direct investment. A Grenada passport allows visa-free travel to over 143 countries including Brazil, China, Hong Kong, Russia, the Schengen Area, Singapore and the United Kingdom.
Grenada allows individuals to hold dual citizenship, and citizenship may be extended to family members, such as a spouse, dependent children and grandchildren.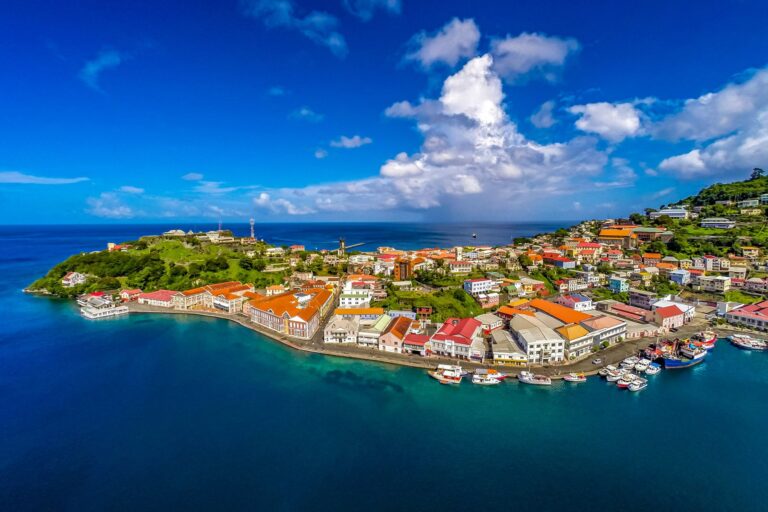 Immigration Act 
Entry into Grenada 
The Grenada immigrant and passport Department is an extension of the Royal Grenada Police Force, with responsibility for administrating the state's affairs in the exercise of control of movement of people (nationals and non nationals) in and out of Grenada, Carriacou and Petite Martinique as a matter of national security at the 11 ports of entry. 
Entry via any port in Grenada (of which there are two airports and nine seaports) is regulated by the Immigration Act, which stipulates that all persons except for Organisation of Eastern Caribbean States (OECS) nationals must, upon entry into Grenada, produce a valid passport to the immigration authorities. Citizens of the United Kingdom, the United States and Canada are also exempted from producing a valid passport upon entry, as long as they possess a valid return ticket to their country of origin and are visiting Grenada for a period not exceeding six months; they must also make a declaration in the form set out in the Schedule to the Regulations. 
Pursuant to the Immigration Act, citizens from OECS Member States can enter Grenada with a state- issued driving licence, national identification card, voter registration card or social security card for travel.
Some foreign nationals require a visa to enter the country under the Immigration Act. Types of visas issues prior or upon entry to Grenada are multiple-entry visas, valid for one year, and single- entry visas. Single entry visas cost US$40 while multiple- entry visas are US$100. To obtain a visa, an applicant must submit a completed application form, flight itinerary, a copy of his or her passport and a  letter explaining the purpose of his or her visit. If necessary, additional documents may be requested.
An applicant must pay the applicable fees to the Inland Revenue department of Grenada and submit a payment receipt and required documents to the immigration authorities at immigrationgnd@spiceisle.co.uk 
Section 24 of the Immigration Act regulates the criteria for a person applying for permanent residence:
Subject to the provisions of this Act, the minister may grant a permit of permanent residence to any person who applies for the same in the prescribed manner and who: 
is of good character and in his or her application, has stated his or her intention to reside permanently in Grenada.
Where a permit of permanent residence is granted to a person under this section the Minister may then, or on subsequent application by the person, endorse the permit to relate also to any one or more of his or her dependants.
Revocation of permit of permanent residence
Pursuant to the provisions of the Immigration Act, the government minister with responsibility for immigration has the discretion to revoke the permanent residence permit if the person granted permanent residence fails to adhere to the law.
Section 25 of the Immigration Act states:
The minister may, by order in writing, revoke a permit of permanent residence or any endorsement thereon the grounds that the person whom it relates to is:
Subsequent to the grant of such permit has been ordinarily a resident outside Grenada continuously for a period of three years
Has in any country been imprisoned for a criminal offence for one year or more;
Has so conducted himself or herself that in the opinion of the Minister it is not in the public interest that he or she should continue to enjoy the privileges conferred by the permit
Being the wife of the person to whom it was granted
Has commenced to live apart from her husband under a decree of a competent court or under a deed of separation, or has ceased to be married to her husband by reason of dissolution or annulment of marriage. 
No order shall be made by the minister in exercise of the power conferred by subsection 1 unless the person against whom the order is proposed to has first been given a notice in writing of the grounds on which it is proposed to be made and has been afforded an opportunity to be heard. 
Work permits
Work permits are required for all persons intending to work in Grenada except citizens of Grenada and persons exempt pursuant to Section 3 of the Caribbean Community Skilled Nationals Act. It is a requirement to have and to not employ and individual who does not a valid work permit.
(Clause 1) 
Subject to this section and to the Caribbean Community Skilled Nationals Act, Chapter 39B, an individual who is a foreign national or a Commonwealth citizen shall not engage in any occupation for reward or profit or engage in or be employed in Grenada in the manifestation or propagation of any religion or belief in religious worship, teaching, practice or observance, unless there is in force in relation to him or her a valid work permit and unless he or she so engages or is so employed in accordance with the conditions specified in his or her work permit.
(Clause 2)
Subject to the Caribbean Community Skilled Nationals Act, Chapter 39B, no person shall have in his or employment a foreign national or Commonwealth citizen unless there is in force in relation to him or her in that employment a valid work permit or an Order of exemption made by the Minister pursuant to subsection (4).
(Clause 3)
A person having in his or her employment a foreign national or a Commonwealth citizen without there being in force a valid work permit or Order of exemption as required by subsection (2), and any foreign national or Commonwealth citizen who is engaged or employed in contravention of subsection (1), shall be guilty of an offence and liable on summary a conviction to a fine of five hundred dollars, and in default of payment to imprisonment for six months and in the case of a continuing offence to a further fine of five hundred dollars for each day upon which the offence continues.
(Clause 4)
Notwithstanding the foregoing provisions of this section, the Minister may by Order exempt any individual or class of individuals from the requirements of subsection (1) either unconditionally or subject to the conditions specified in the Order.
(Clause 5)
In criminal proceedings instituted pursuant to this section it shall be presumed that the accused or, as the case may be, the alleged employee is a foreign national or Commonwealth citizen unless the contrary is proved by the defence.  
It is also at the discretion of the minister of government with the responsibility for granting work permits, under the provisions of the Foreign Nationals and Commonwealth Citizens Act, to permit a person skilled in an area not readily available in Grenada to apply for and be granted a work permit.
A person classified as a non- national of Grenada who wishes to invest in Grenada outside the requirements stipulated by the Citizenship by the Investment Act, requires an alien landholding licence which regulates the investment. 
The requirements for being granted an alien landholding licence are stipulated in Section 4 (1) of the Aliens Land Holding Act and are as follows:
Bank reference letter (addressed to the Permanent Secretary)
Two character references (addressed to the Permanent Secretary)
Police character references for the applicant from the country in which the applicant has most recently resided for a period of at least 20 years (where it is not usual for the police to provide certificates of character, the police must provide a letter to that effect, valid only for six months.
Three completed alien landholding application forms 
An employment letter or statement of employment (if retired, letters are not applicable) 
A copy of the page in the passport with the applicants photograph and details.  
Once granted an alien landholding licence, that person is entitled to reside within Grenada and occupy the property with the legal requirement to report to the Immigration Authority within a minimum of every three months, up to a maximum of six months until an application is made for permanent residence and citizenship. An application for alien landholding is generally processed within a 90- day period. For a person who was granted an alien landholding licence to work within Grenada, a work permit will be required to seek employment.
The following countries require visas to enter Grenada 
 Asia- Pacific: China, Indonesia, Laos, Mongolia, Nepal, North Korea, Pakistan, Phillippines, Thailand and Vietnam;
 The Caribbean: the Dominican Republic and Haiti;
 Central America: Costa Rica, El Salvador, Guatemala, Honduras, Mexico, Nicaragua and Panama;
 Middle East: Afghanistan, Iran, Iraq, Jordan, Kuwait, Lebanon, Oman, Saudi Arabia, South Yemen, Syria, United Arab Emirates and Yemen; 
 South America: Bolivia, Brazil, Colombia, Ecuador, Paraguay, Peru and Uruguay; and 
 Rwanda, San Marino, Serbia and Montenegro, and Turkey.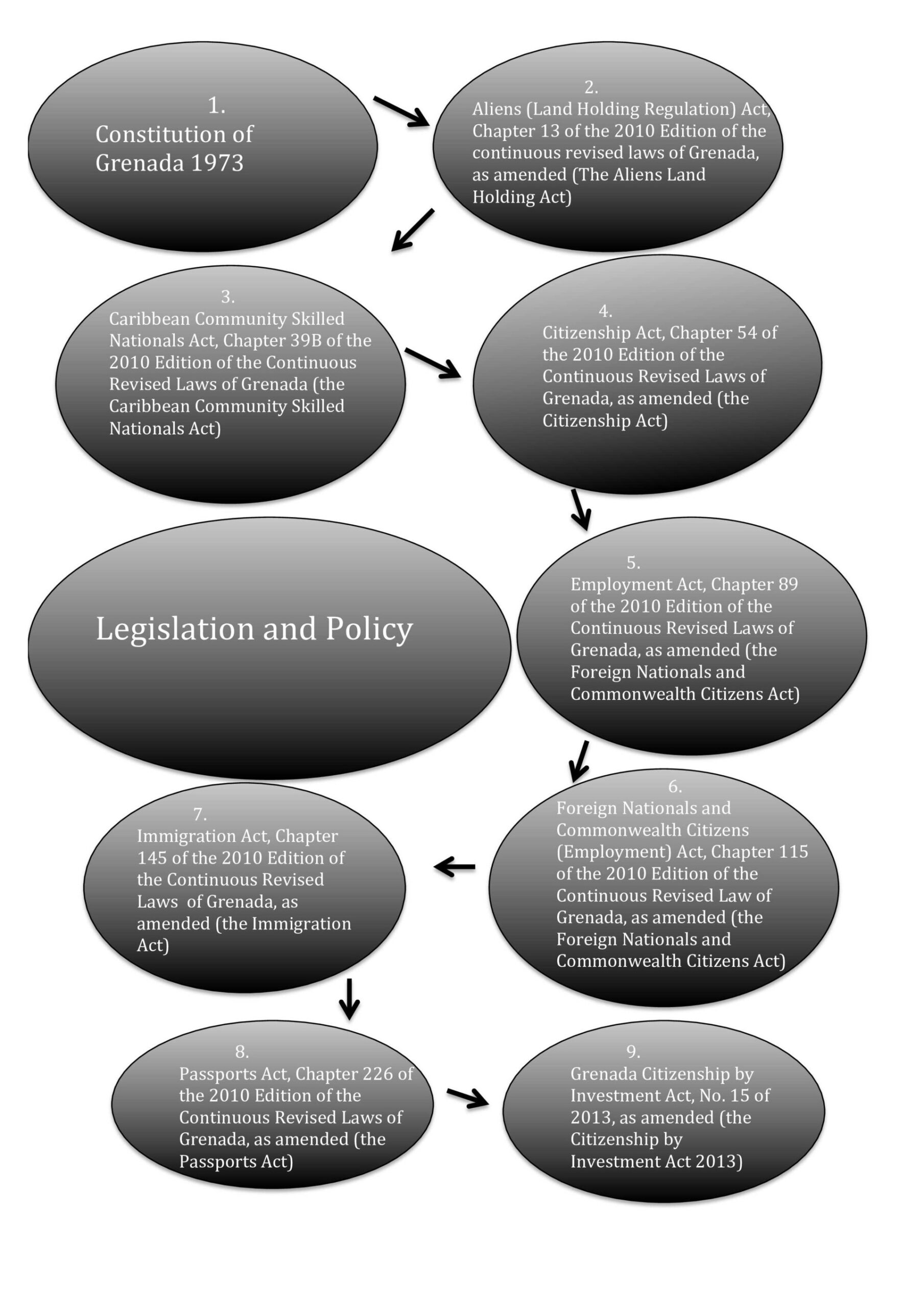 Duties at port of entry 
Section 9 of the Immigration Act outlines the duties of persons at ports of entry in Grenada as follows:
No person shall enter Grenada except at a port of entry. 
A person entering Grenada by sea shall not disembark without the consent of an immigration officer, and the master of a ship shall not allow any person to disembark without such consent. 
Every person entering Grenada shall, if required by an immigration officer: make and sign the prescribed declaration and submit to examination by a medical practitioner.  
A person who contravenes, or fails or refuses to comply with any of the provisions of the preceding subsections of this section, when entering Grenada, shall be deemed to be a prohibited alien and may be dealt with as such.
An immigration officer may grant a permit for a person to disembark without prejudice to the question of whether he or she is a prohibited alien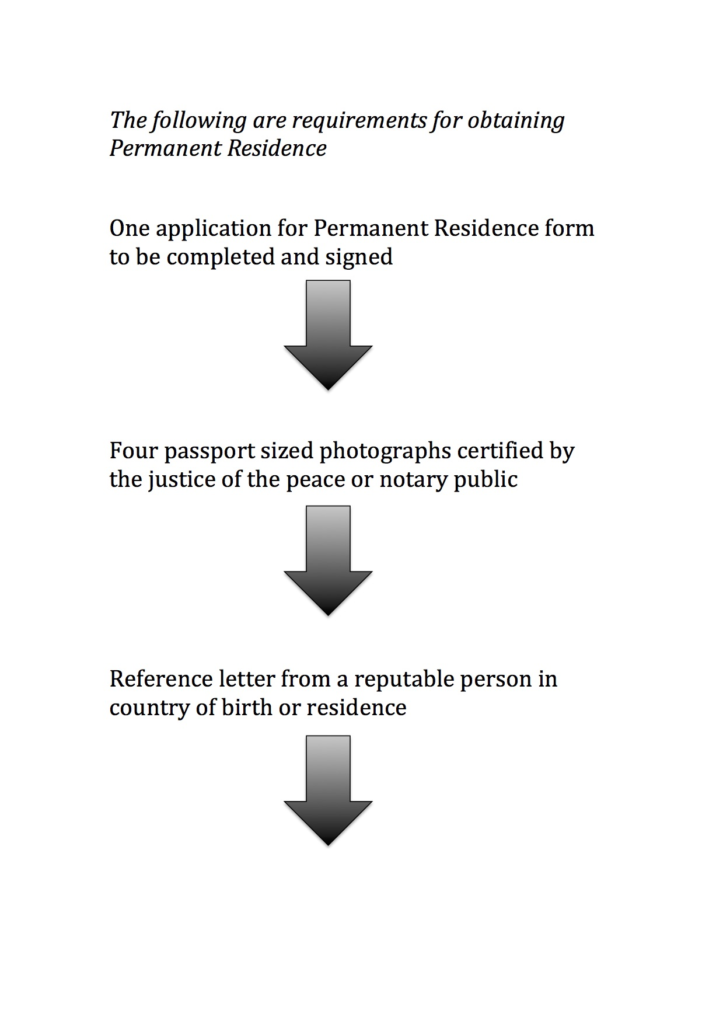 The following are the requirements for obtaining a work permit:
Completed, signed and dated application forms or in the case of companies, forms are to be signed and sealed by a director of the company;

Four passport- sized photographs (2″ x2.2″) of international standard (the name of the applicant must be written on the back of the photographs)

Police record or clearance  

Certificates of qualification

A character reference from a previous employer or reputable person if the applicant has no previous employment

A letter from the prospective employer addressed to the Minister for Labour, through the Permanent Secretary of the Department of Labour

A copy of the certificate of incorporation of a company or the business registration certificate

The resume of the applicant 

A copy of the page with the applicants photograph and details from his or her passport and the page detailing the most recent date of arrival in Grenada

Recent tax compliance and value added tax receipts 

A network and information systems compliance certificate and the previous work permit must be submitted in cases of renewal or change of employer
Citizenship Act and Constitution of Grenada


Section 98 of the Grenada Constitution stipulates that:
Any person who is married to a citizen of Grenada or who has been married to a person who was, during the subsistence of the marriage a citizen of Grenada shall be entitled upon making application in such a manner may be prescribed by or under a law enacted by Parliament, and if he is a British protected person or an alien taking the oath of allegiance, to be registered a citizen of Grenada.
Children born outside Grenada under the age of 18 to persons not born in Grenada but who acquired citizenship through one of the aforementioned means can apply for and may be granted citizenship of Grenada. Children born to persons born within the jurisdiction of Grenada may apply for Grenada citizenship at any age as they are subject to no restrictions. Descendants of a citizen of Grenada can also apply to be granted citizenship.
Citizenship by Investment Act 
In 2013, Grenada introduced legislation regulating economic citizenship for persons wishing to apply to become citizens of Grenada. The Citizenship by Investment Act makes provision for persons to acquire citizenship by investing in one of the following:
National Transformation Fund: US$150,000 for single applicants into the National Transformation Fund; or US$200,000 for a family of four applicants into the National Transformation Fund.
Approved projects: a minimum investment of US$350,000 for a family of four, and minimum investment of US$220,000 through co-ownership of a single unit by two or more main applicants.
Significant investments: a minimum investment of US$5 million into developing a project of considerable benefit to the Grenadian economy that will create continuous employment opportunities for Grenadian citizens.
A main applicant applying for citizenship in Grenada via the Citizenship by Investment Act, can include as a dependent on the application, siblings of the main applicant who are unmarried and without children. In addition, there is no requirement to show proof of financial dependancy for parents and grandparents of the main applicant, who are dependants. 
The application process for citizenship via the Citizenship by Investment Act is fast and efficient, taking approximately three months, and there is no requirement for an applicant to visit Grenada prior to the granting of citizenship.
iv Exemptions and favoured industries
As a developing nation, Grenada has an emergent economy with potential for further economic growth, experiencing an annual growth rate of three percent of its gross domestic product. In recognition of Grenada's growth potential, in 1985 through the enactment of the Grenada Industrial development Corporation Act, the Grenada Industrial Development Corporation (GIDC) was established to be the national investment agency in Grenada.
GIDC is the main statutory body established by the government of Grenada whose main purpose was to stimulate, facilitate and boost the development of industries.
While the GIDC does not provide exemptions for the immigration rules as provided for by the laws of Grenada, the GIDC provides services to foreign investors, including acting as a 'liaison' service between potential investors and the government by assisting  them to obtain work permits, alien landholding licences, land development and building permits, land leases, or such approvals or documentation as are necessary for carrying out business in Grenada.
Additionally Grenada offers a wide range of investment opportunities and the GIDC provides favourable investment incentives in key industry areas for business immigrants looking to start up business in Grenada. These incentive areas include:
Information communication technologies: software development, data processing, research and technical writing services, customer and technical support services, electronic publishing and computer- aided design.
Health and education services: retirement homes, hospitals, medical facilities, sporting facilities, spas, rehabilitation services, technical and vocational training services, schools and colleges and universities.
Tourism and hospitality services: water sports facilities, recreational facilities, restaurants, hotels and villas, condominiums, marinas and attractions.
Agribusiness: poultry products, horticulture, aquaculture, agro- processing, organic farming, animal breeding, rums, wines and liquors, fruit and vegetable juices, apiculture, herb and spice farming, honey and honey products.
Energy development: alternative energy (wind, solar and geothermal) and oil and natural gas refining.      
 The year in review 
In 2018, the Grenada Passport Office introduced the CARICOM and Caribbean Community Grenada e-passports and electronic permanent residence cards.